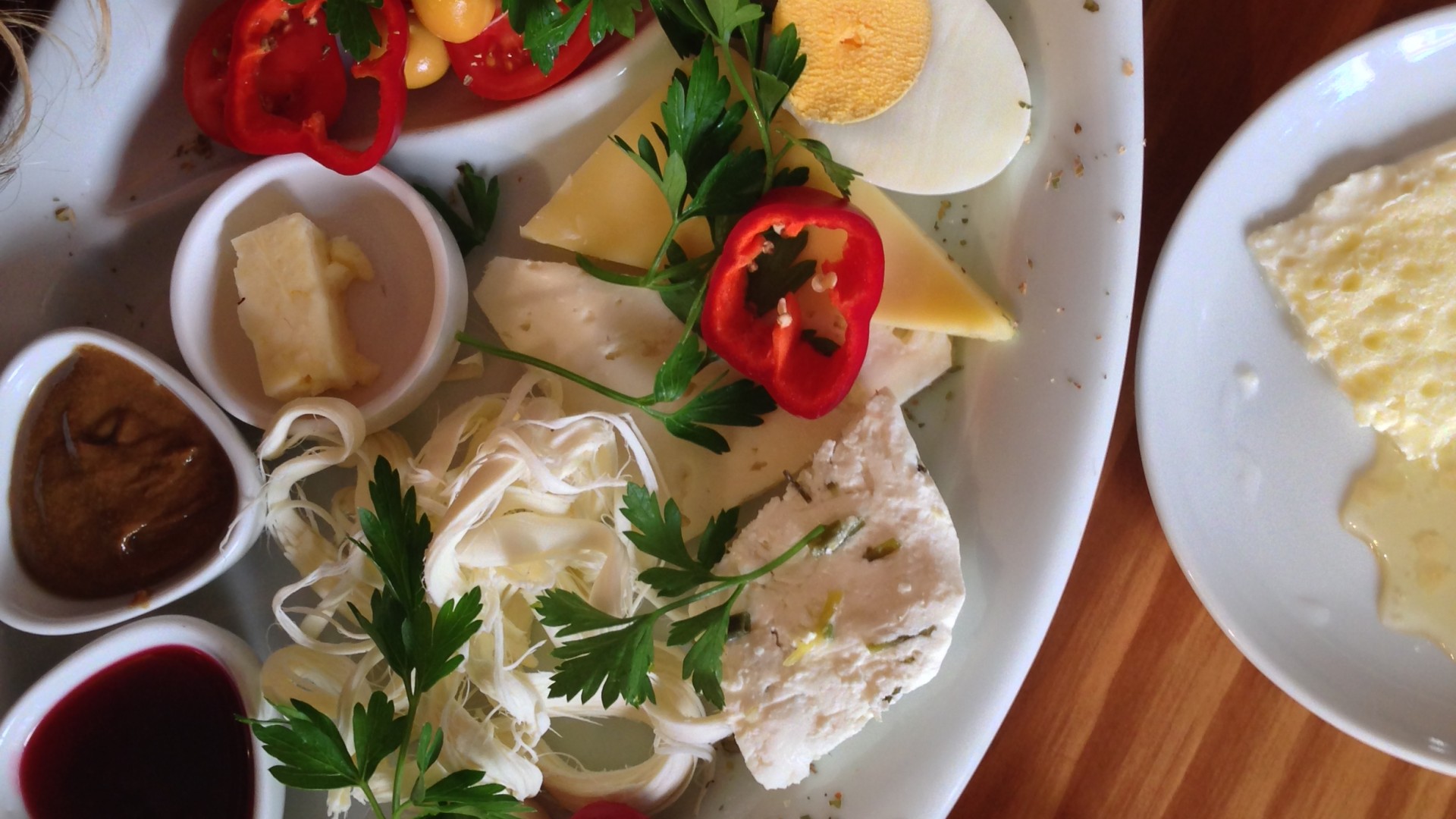 Istanbul is somewhat of a juxtaposition. It's Old City versus New City, traditional versus liberal, European versus Asian. The food too can be described in much of the same way- you can easily grab a customary simit (sesame seed crusted bread rings) for $1 or an incredible pide (Turkish pizza) for a mere $2, or you can indulge in a near Michelin starred tasting menu high above the city and spend just as you would in NYC.
You really are spoilt for choice when it comes to options in Istanbul. There is a lot on offer, and trying to weed through it all in my lead up to the trip was not the easiest. I've heard visitors say they absolutely loved the food, and I've also heard the reverse, which in truth probably made me work even harder to really dig and find what looked like it might be at the top of the pile before I went. This last trip was my second time in Istanbul, and because of that I got to go a little further beneath the surface than the first time around. Still, I know I've barely scratched the surface of this complex and varied city, both in terms of culture and of course, as well as food. Below is a snapshot of what I did get the chance to try though. You can bet that I already want to go back for more…
Lokanta Maya
My flight touched down at 8pm, and I was seated at Lokanta Maya in the now somewhat gentrified area of Karakoy by 10. The feel was a little more stiff and modern looking than I would've liked for my entry into Turkish eating, but I'd had multiple recommendations for this place, so eagerly settled in. Wanting to try and get a real feel for the menu, I opted for the suggested alternative of three starters, no entrée. The zucchini fritters with yogurt dip were full of contrasting tastes and flavors. The kadayif (filo, cheese, rosemary, honey) was intense in the best way possible.  And the grilled octopus in olive oil and red onions was the best I have ever had, anywhere, so tender it was all I could focus on as I worked my way through it.
Lades
Menemen is a Turkish take on breakfast- eggs, onion, tomato, green pepper and spices, mixed together and served in a cast iron pot. I knew I wanted to try this, so I headed to the very basic, very traditional "lokanta" named Lades. Found (not easily) on a side street off of the bustling Istikil strip, Lades serves mostly meats and eggs. It is no frills, but is a long-standing, tasty and reliable look into the way the locals do it in Istanbul.
Ciya Sofrasi
While I will travel to great lengths for food, it's not everyday I hop a ferry in order to do so. To get to the Asian side of Istanbul, you need to travel by boat across the Bosphorus straight. The city is literally wrapped around this body of water, so being on these gigantic ferries is pretty impressive. Many tourists do not make or have the time to cross the border, so Kadikoy– and it's food markets- maintain a very authentic feel, housing dozens of open air shops and delis, restaurants, fish stands, olive bodegas, etc. The cuisine here mimics this, with Ciya Sofrasi being at the forefront. As is the case in a lot of Turkish restaurants, meze's are the main attraction, all options being showcased within a clear display counter at the entrance. It's a fun lunch experience here- you look, you point, you grab a table outside, and you watch a very different sort of world go by.
Halil Lahmacun
Also on the Asian side, this is where I had my taste of $2 pide (yes, I came here directly after going to the above). I think this may literally be the best thing I ate in all of Turkey. Halil Lahmacun is a hole in the wall which makes the pides on the spot, needing the dough and warming it in the brick oven in front of you, right before you roll your serving up and devour it. Mine was made with cheese, parsley, and pesto- and it was unreal. I wish I could eat here everyday.
Limonlu Bache
Recommended by the lovely woman who owed my humble AirBnB apartment, Limonlu Bache is a charming, albeit large garden space that you would never know existed from the steep streets of the Beyoglu area. Since I had already eaten two lunches that day, I went here more to check out what she referred to as an "Istanbul hipster scene," and not actually to have any food for once. What I did have though was Ayran, a thick drink comprised of yogurt, mint and cucumber, that I started realising was offered nearly everywhere. Essentially, it tastes like tzatziki in a glass- nothing wrong with that.
Asmali Cavit
Asmali Cavit came up over and over and over again, on every blog, every guide, every review source that I read in preparation for my trip to Istanbul. It seemed like a no brainer to add to the list, and as I climbed the stairs to the portion of the restaurant overlooking the busy streets of Asmali Mescit, I was feeling pretty excited. The waiter shuffled me over to another clear display counter stocked full of two dozen different meze options, I pointed and picked, added the seasonal bonito grilled fish to my order, and then sat eagerly amongst the vibrant scene in front me. While I hate to say this as I really did think this was going to be a guaranteed good pick, the food just did not live up to my expectations. The fish was dry and fell way short in flavor, and nothing I consumed really impressed too much. This place was proof that people have such varied tastes and preferences, always making it a gamble to go off recommendations from those you do not know.
Van Kahvalti Evi
If I lived in Istanbul, I'd come here often. Completely simple, filled with locals and visitors alike, Van Kahvalti Evi offers a perfect take on the infamous Turkish breakfast. The traditional breakfast platter- eggs, honey, jams, multiple cheeses, dips, breads, simit- will not steer you wrong.
Kronotrop
Kronotrop was how I knew that the area I was staying in was without a doubt in the midst of "brooklynization." Cute swedish coffee shop on the corner of a pretty undeveloped but somehow cool looking street- check.
Pandeli
Despite my hours of research before I left for Istanbul, Pandeli was not initially in the mix. As often, amazingly, happens to me- when a friend from London realised I was this city she immediately connected me with a local friend, and to Pandeli he sent me. I was kind of skeptical at first, as Pedali is located on top of the massive Spice Market on the Sultanahmet (Old City) side of the water. This to me, screamed touristy and stay away.  I went anyway as he was persistent with his suggestion, and immediately upon walking in I knew it was a good move. The bright blue tiled walls leading up a narrow stairway and continuing literally all over the interior of the restaurant itself were spectacular, and unbelievably striking and absorbing. I felt I had stepped back in time into a land I was completely unfamiliar with, and I loved it. The food was simple but incredibly well done.
Hamdi
The best baklava I've ever had was found here on the ground floor at Hamdi, in the heart of the Old City.
Mikla
20 stories high above the sprawling city, Mikla is on the top floor of the Marmara Pera Hotel in the hills of Beyoglu. Before you sit, the well manicured staff is insistent that you go yet one floor higher and grab a drink at the rooftop bar. Doing this should not be optional. Glass of red wine in hand, I could not get over the incredible 360 nighttime view of this dazzling, brightly lit scene in front of me. It puts you in a daze before you even begin to eat, and greatly sets the vibe for the evening ahead. I loved the food, which too delivered in richness, creativity, and display throughout the night.
Add comment