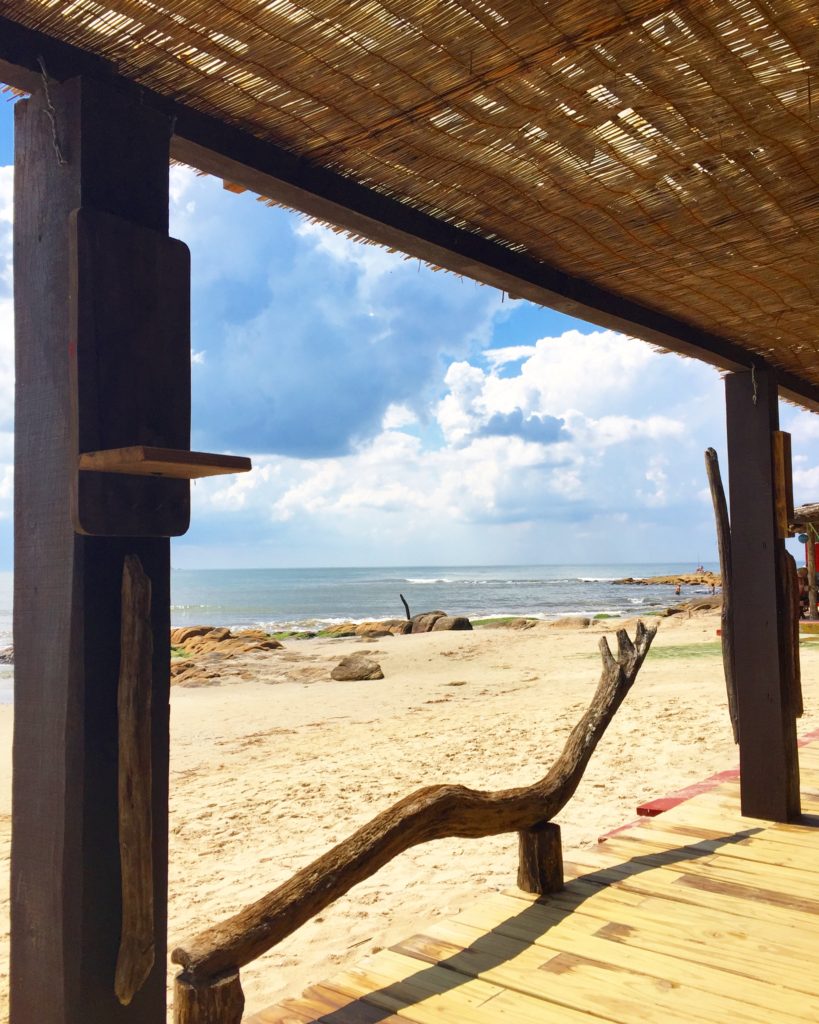 Uruguay. It's understated, underrated, and completely under the radar, at least for those outside of South America. Uruguay is a total hidden gem, a country both simplistic and passionate at the same time. The land is one of wide beaches, green valleys, and thinly scattered palm trees. The food is colorful, creative and rich with fervor and flavor.
I love Uruguay. I would go every year if I could. When I first visited five years ago, I fell for it almost instantaneously. Going back again, in a different phase of life but still as a person who looks for the same characteristics at the root of my travel, I wondered if I would be met with a feeling of inflated memory and potentially, disappointment.
What I found instead was a consistency in Uruguay's offerings just as I had remembered, as well as a still steady feeling of excitement when there.
In 2012 I went only to one area, Jose Ignacio. This time around I embarked on more of a road trip, setting out to see more, and to go deeper.
Here are a few of the can't miss food stops along the way.
Fasano Hotel
A ridiculously extravagant hotel high in the hills of Punte del Este, Fasano Hotel was an amazing place for a welcome lunch after a redeye flight into Montevideo. The property is massive, taking advantage of the natural beauty of the land and building right into it. The style is modern architecture takes on meticulously curated ranch, a thematic found in many places across the country. Indulge in the BBQ from the grills being worked by staff alongside the pool, or go for the octopus carpaccio and caprese salad.
Perla
Cabo Polonia is a protected national park with limited electricity, less than 50 full time inhabitants, and no cars. What it does have are breathtaking sand dunes, beaches that stretch for miles, and an epic restaurant called Perla. After a two hour ride on horseback spanning nearly the entire length of Cabo, lunch was up next. My guide Mauro, a young born and bred Uruguayan informed me that some locals call Perla the best restaurant in the country.
Intrigued, I took my seat steps away from the sand at the open air facade, and quickly learned that the caliber of Perla matched that of a top restaurant in New York City. An amuse bouche of gazpacho was first, followed by mixed seafood ceviche and a full piece of fish places on top of a swirl of capers, olive oil, pesto, thinly sliced zucchini and babaghanoush. Somehow still it all felt easy and completely unpretentious, exactly as it should.
Restaurante Garzon
I have a running tally of the best restaurants around the world that I have so far been lucky enough to have eaten at. Restaurante Garzon, by famed Patagonian chef Francis Mallman, is now on that list. At the heart of Hotel Garzon, in the incredibly small and equally charming town with the same name, lies a place with immense beauty displayed through all of its details.
The color scheme is largely green, black and yellow. There are trees and leaves and plants everywhere, and dozens of lemons on all tables. A rectangular pool resides in the center things, casting a deep color to compliment the surroundings. It looks like a painting.
The food comes in welcomed waves, a well stocked complimentary tray of four types of bread, olives, babaganoush and chili almonds out first. Appetizers are an octopus crudo adorned with lavender petals and dots of basil, a beet and goat cheese salad, and a zucchini, lemon, parmesan and peanut salad that goes to the top of another list I keep similarly titled Best Dishes Around the World. A quick break ensues followed by eggplant and pappardelle pasta with piles of parmesan so soft it melts in the mouth. Dessert was a decadent and unforgettable heaping pile of chocolate X
—
The food in Jose Ignacio is centered widely around a few key dishes; grilled octopus, ceviche, some sort of seafood pasta, a whole fish of the day, and a dulce de leche centric dessert. Zucchini and sweet potato are often in the rotation in some way, too.
The following three places encompassed this.
La Huella
La Huella is why I loved Jose Ignacio almost instantly five years ago. Back then, as an excited 30 year old at the beginning of a journey around the world, this restaurant hit me hard and swallowed me whole. It was one of those traveling moments that you never forget.
The second time around, the same pretty much held true. I've now since had dozens of additional experiences and knock the wind out of me moments, but La Huella did hold steady and continue to impress, so much so that we ate here twice for dinner, and once again for lunch.
La Huella produced probably the best, and the largest, of the pulpo piece of puzzle. The pastas too were impressive, especially coming from a country you might not necessarily associate with this sort of food. Pasta number one was unique, an orrochetie mixed with charred salmon pieces, zucchini, chili flakes and breadcrumbs. The other was a spaghetti in a tomato based sauce, with shrimp, mussels, spinach and again, zucchini.
La Oleda
La Oleda was another restaurant I had gone to originally, but I'm not sure I appreciated the specialness of it back then. It's completely small and simple, but has the structure, the charm and the food that make it memorable.
La Oleda is open air, sectioned into two parts; half inside under a thatched roof, and a bar on one side. The other half is completely outside, centered alongside a burning fire pit and underneath rows of drooped edison lights. If you want a quieter, yet still absolutely lovely night, this is your spot.
La Susana
The beach is my happy place. Put me on it and I am effortlessly content. Put me in a restaurant with excellent food built right on said beach, and I'm done.
La Susana is the beachclub cum restaurant located on the side of the spectacular Bahia Vik hotel, where I was lucky enough to stay while in Jose Ignacio. There are dozens of tables, over half of which are sprawling out onto the sand itself.
The menu is lunchtime only, but if you're there at the right time of the year, the party is known to roll well into the night.
Add comment